Choose your bottle below and send us a request for availability.
We sell our local honey in a variety of sizes:
8oz glass jar $8.00
12 oz bear $10.00
12 oz hive jar with gold lid $11.00
1lb(16 oz) plastic or glass bottle $12.00
1.5lb(24 oz) plastic $18.00
2lb(32 oz) plastic or glass bottle $23.00
2.5lb(40 oz) wide mouth glass jar $29.00
3lb(48 oz) plastic bottle $33.00
Honey sticks 10 for $2.00
Honey Comb (when available) - $25.00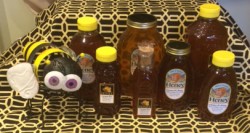 We arrange and supply specialty bottles and containers for Corporate shows and events, weddings and rehearsal dinners and any special occasions.
Custom orders for any amount, in glass, plastic, or custom bottles. Please choose bottles from the Gamber Container website.
Delivery or pick up available
Request Availability